ImPat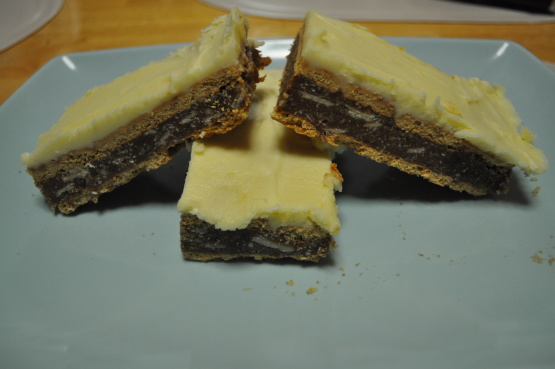 An old family favorite that is delicious and irresistible. This old fashioned recipe is one that is always requested to be on the Christmas goodie tray. A great hit at the potlucks.

Top Review by ImPat
Made this up for the DS to take to his music recreation group were they enjoyed it. I was lucky enough to be able to use graham crackers (used 2 of the three packets in the box) and used a 23cm square pan. Set in the refrigerator and was easy to slice and remove from the tin once set. Thank you Gerry, made for Aussie/NZ Swap #36 January 2010.
BASE- Line bottom of a 9x9 pan or 6 1/2 x 10 pan with graham wafers, cutting to fit if necessary.
FILLING- In pot add butter or margarine, sugar, milk, and beaten egg.
CAREFULLY bring to a boil, then turn down heat, stirring all the while until well dissolved and begins to thicken.
Take off heat, add the Graham Wafer crumbs, coconut and the walnuts.
Spread on base, top with the Graham Wafers cutting to fit if necessary and frost with white Butter Icing.
WHITE BUTTER ICING.
Cream butter, add the milk and vanilla.
Add icing sugar gradually to mixture until you have a nice spreading consistency adding more if needed.
NOTE- When frosting the cake I use just enough icing to nicely cover the cake.