Juju Bee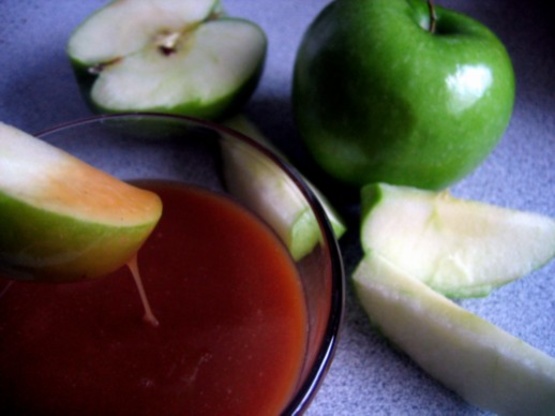 If you would like a sauce that is very soft and almost pourable at room temperature, double the amount of cream to 1 cup. Otherwise this caramel sauce will have to be warmed to be pourable. Note from UnknownChef86: This is a recipe I adopted in 2006.

Wow!!!! This is as good a caramel sauce as I've ever tasted. It's extremely fast and easy to make but be careful of the color of the syrup. The first batch I made I allowed the syrup to turn dark amber then removed it from the heat. It continued to cook and ended up burning so the second batch I made I took it off the heat when it turned a light amber color. After I added the cream it continued to darken but turned out perfect when all was said and done. Thanks for sharing this one. It's definately a keeper!!!
In a heavy 4-quart or larger saucepan, preferably nonstick, stir together the sugar, corn syrup, and water until the sugar is completely moistened.
Heat, stirring constantly, until the sugar dissolves and the syrup is bubbling, about 5 minute.
Stop stirring and allow it to boil undisturbed until it turns a deep amber .
Immediately remove it from the heat and slowly and carefully pour the hot cream into the caramel.
It will bubble up furiously.
Using a high-temperature, heat-resistant rubber spatula, or a wooden spoon, stir the mixture until smooth, scraping up the thicker part that settles on the bottom.
If any lumps develop, return the pan to the heat and stir until they dissolve.
Stir in the butter.
The mixture will be streaky but will become uniform after cooking slightly and stirring.
Allow to cool for 3 minutes and then gently stir in the vanilla extract.