Bev I Am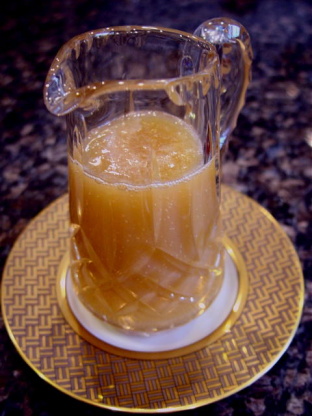 Serve this over ice cream, cheesecake or your choice. This recipe comes from Chef Patrick O'Connell from the Inn at Little Washington.

This caramel sauce should be outlawed it is so incredibly good. It is very rich and tastes like heaven. It was pretty easy to make, although I think I could have let it caramelize a little longer, but I was worried it would burn. I'm looking forward to drizzling a bit in my coffee in the morning, that way I can get a high-end coffee flavor without the high price.
In a large saucepan, caramelize the sugar and water.
Remove from heat.
Heat the cream and slowly whisk into the caramel.
Be careful of rising steam.
Whisk in small pieces of softened butter.
Cool.
Makes 2 1/4 cups or approximately 8-10 serving portions.