Jaylee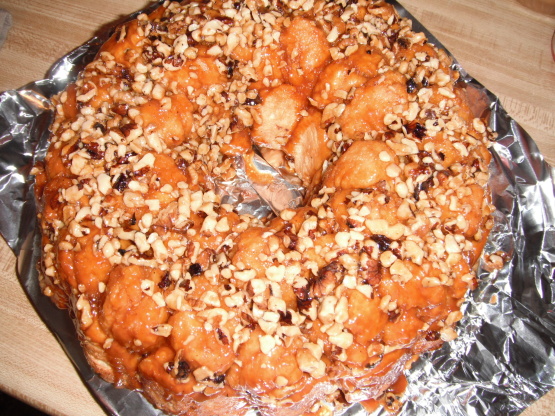 Yummy breakfast or brunch addition

Top Review by Ms B.
Once again, I searched Zaar prior to posting my own tried and true version of caramel rolls. And, once again, here is the recipe I have used for about 15 years. I use loaves of frozen bread dough cut into small pieces, but I believe the original recipe stated to cut frozen dinner rolls in half. I also don't bother with preparing the syrup. I sprinkle the pudding mix, and crumble the brown sugar over the pieces of dough and then pour the melted butter over everything. It works wonderfully. I usually prepare the pull-aparts at night, allow them to rise overnight, and then pop into the oven when I get up. Yummy and easy!! This is a very good caramel sauce. Some friends who have always made their from scratch caramel rolls now use this sauce over their yeast rolls.
Grease a bundt pan.
Cut the rolls in half and roll in each in dry pudding mix.
Arrange in pan alternately with nuts.
Be sure to stack evenly as possible.
Sprinkle remaining pudding mix over the top.
Combine the brown sugar and butter together and heat until the butter is melted and syrup is formed.
Make sure it is stirred well.
Pour the syrup over the rolls.
Cover with greased plastic wrap (I use non-stick cooking spray) Let rise until double in size or even with top of bundt pan.
Remove wrap and bake at 350 deg.
F 30-35 minutes.
Cover with foil the last 15 minutes of baking.
Immediately invert onto a serving platter.