eabeler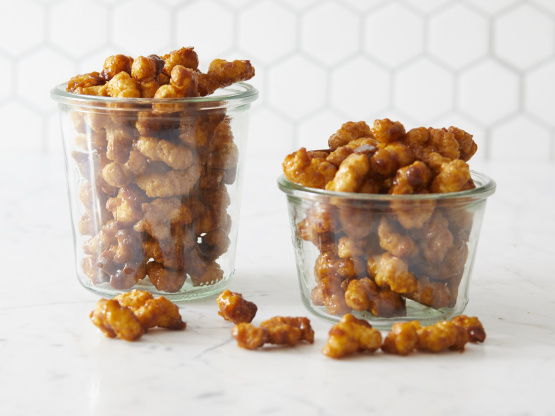 Puff Corn can be found in the potato chip aisle of your grocery store. (The brand we have is Old Dutch, but I'm sure there are others.) Making caramel corn this way gives you great big "kernels" with no hulls or old maids. Quite addictive. Great at a party. Makes nice gifts too.

We LOVE this ! It just couldn't get any better. One little secret? Cook the sugar/butter mixture to about 310 - 320 degrees. ((hard crack stage). If you don't boil it at least to that temp, the caramel never "sets" and the caramel corn is chewy and spongy, not crisp and hard.
Place puff corn in a large roaster pan.
In 2 quart sauce pan bring the butter, sugar & corn syrup to bring to boil, then cook for 2 minutes.
Add the baking soda- this will cause the caramel mixture to foam up.
Stir well and remove from heat.
Pour over puff corn in roaster and bake in 250* oven for 45 minutes, stirring every 10-15 minutes.
Remove from oven, spread out onto wax paper to cool.