lets.eat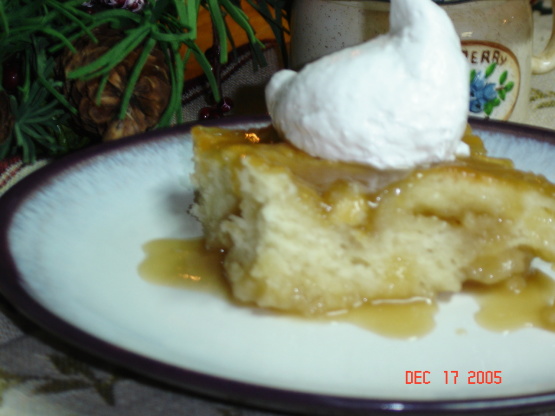 Moist cake with a caramelized sauce, baked to create ooey, gooey bliss.

This was an absolute disaster!. Everything seemed to go well up until the baking step. After about 15 minutes in the oven I noticed an awful burning smell. When I looked in the oven I noticed the water/brown sugar liquid boiling over. I assumed it was normal and just figured it would evaporate. Nope. Another 15 minutes later and my entire apartment was filled with smoke. So sad this didn't turn out. The photo was very much misleading. However, as the other reviews state (which I mistakenly did not read beforehand) it may have came out descent had I used 2 cups (maybe even less) instead of 4 cups. :
Cream butter and granulated sugar.
Add flower, baking powder and salt.
Stir in milk and mix until smooth.
Spread into greased 8x13-inch pan.
Boil water and dissolve brown sugar. Pour over batter.
Bake at 350°F for 1 hour.