CoffeeB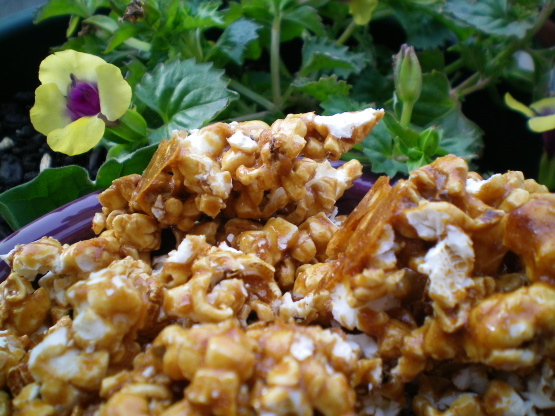 From Cooking Light. Will try soon!

Wonderful!!! Made popcorn using the method in Recipe #287921 and subbed honey for corn syrup. This makes a lot of syrup, enough for more popcorn if you'd like but we loved it as is. The caramel crunch is wonderful!!! Buttery and sweet and perfectly crunchy. I used regular old molasses and didn't notice a strong flavor, in fact much less than a recipe I made recently. I used unsalted butter and popcorn without salt and it was perfect, for those using microwave popcorn, I'd suggest cutting back on the additional salt. We ate the whole batch last night!! I love Cooking Light and this recipe is a wonderful find. Thanks for sharing!
Preheat oven to 250°.
Coat a large jelly roll pan with cooking spray.
Combine sugar, corn syrup, butter, and molasses in a medium saucepan; bring to a boil over medium heat. Cook 5 minutes, stirring once. Remove from heat; stir in vanilla, baking soda, and salt. Place popcorn in a large bowl; pour sugar mixture over popcorn in a steady stream, stirring to coat.
Spread popcorn mixture into prepared pan. Bake at 250° for 1 hour, stirring every 15 minutes.
Remove from oven; stir to break up any large clumps. Cool 15 minutes. Serve warm or at room temperature.
Note: Store in an airtight container for up to 1 week.