gailanng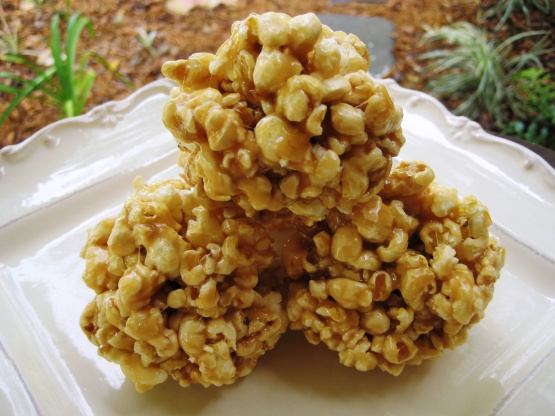 The kids love helping me make these. They are wonderful for school party treats. Also, you can add almonds or peanuts for an extra flair.

These were REALLY easy! Somehow I missed the water in the recipe, but they came out perfect without it. The key to getting them to stick together was to wait until the popcorn/syrup mixture was almost room temperature. Like other reviewers, I was able to add additional popcorn (I had made too much, anyway). When I made my second batch, I spooned it into muffin tins until it cooled down, then they were a snap to form into balls. Also with my second batch, I ran out of corn syrup so I used a little molasses and they came out well, too.
Put popped corn in large bowl. Combine sugars, syrup, water, vinegar and salt in a 2 quart sauce pan. Heat to boiling over medium high heat, stirring frequently. Once it starts boiling stir constantly until small amount of mixture dropped into very cold water forms a ball (hard ball stage). Reduce heat to low and stir in butter until melted. Pour syrup over popcorn in bowl, stirring until well coated. Let cool slightly. Butter hands and shape into balls.