Caramel Pecan Upside-Down Muffins
Katzen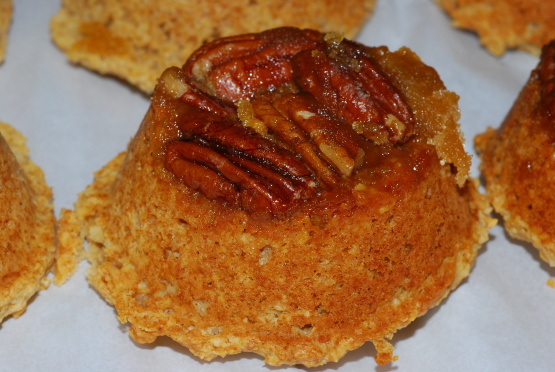 These taste just like caramel rolls, but without the fuss.

Just pulled these out of the oven and the smell was heaven! I realized after the first bite that something was off and realized I had used a whole stick of butter instead of just half. They were a bit salty but still moist and indulgent. (That's what happens when you are 9 months pregnant and get the urge for baked goods.) When I make these again I will put in the correct amount of butter and probably some cinnamon. Aside from my own mishap they were great, love the oats for the consistency.
Preheat oven to 400*.
Blend brown sugar and 2 Tbs softened butter.
Evenly pat this mixture into oiled/sprayed muffin cups.
Arrange pecan halves on top of this mixture.
In a large bowl, mix flour, oats, sugar, baking powder, salt and baking soda.
Cut in 1/4 butter into this mixture.
Blend egg with buttermilk and stir into flour mixture until just moistened.
Spoon batter into muffin cups, on top of pecan pieces.
Bake in 400* oven for 15-20 minutes.
Take these out of the pan immediately or they will stick.