Caramel-Pecan Pumpkin Pie
Cynna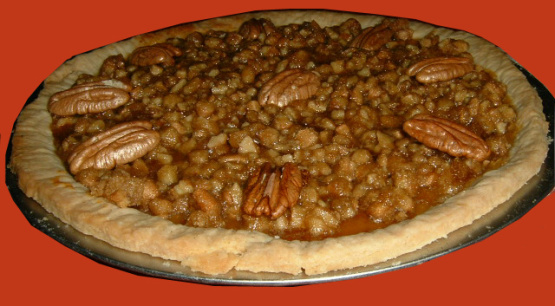 "Caramel, pecan and pumpkin in a pie - what's not to love?" I made and took this pie to share at Thanksgiving and I must say, it was delicious! The caramelized topping added real dimension to this classic pumpkin flavor. Adding a 1/2 tsp of pumpkin pie spice really makes for a special pie crust on this beauty. Another mouth-watering recipe from BHG.com
In a medium mixing bowl stir together the flour and salt.
Using a pastry blender, cut in shortening until mixture resembles fine crumbs.
Sprinkle 1 tablespoon of the water over part of the mixture; gently toss with a fork.
Push moistened dough to the side of the bowl. Repeat, using 1 tablespoon of the remaining water at a time, until all dough is moistened.
Form dough into a ball.
On a lightly floured surface, flatten the ball of dough with hands.
Roll dough from center to the edges forming a circle about 12 inches in diameter.
Ease pastry into a 9-inch pie plate, being careful not to stretch dough.
Trim to 1/2 inch beyond the edge of the pie plate. Fold under the extra and flute the edge. Do not prick pastry.
In a large bowl stir together eggs, pumpkin, and half-and-half or milk.
Stir in the granulated sugar, flour, lemon peel, vanilla, salt, cinnamon, nutmeg, and allspice.
Pour pumpkin mixture into pastry-lined pie plate.
Cover the edge of the pie with foil to prevent overbrowning.
Bake in a 375 degree F oven for 25 minutes.
Meanwhile, in a medium bowl stir together the brown sugar, pecans, and butter until combined.
Remove foil from pie
Sprinkle brown sugar mixture over top of pie.
Bake for 20 minutes more or until a knife inserted near the center comes out clean and topping is golden and bubbly.
Cool on a wire rack.
Cover and refrigerate within 2 hours.