Caramel Pecan Ice Cream Dessert
Bayhill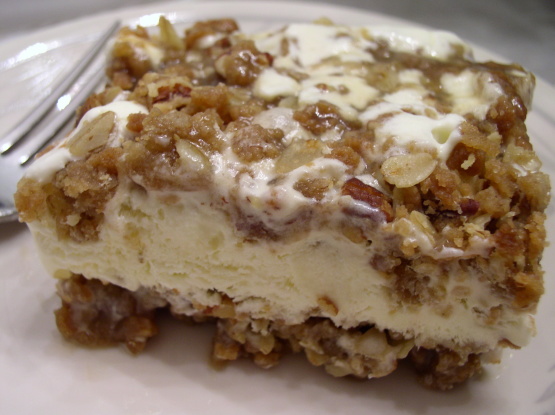 This lucious high calorie ice cream dessert is sooo good you may want to pass on dinner and get right to the dessert. It is easy to make and disgustingly yummy. This recipe is 2 part so I have broken it down in ingredients and directions.

We made this recipe for a large group of teenage girls at a swim party. They loved it. Also served it to a group of college-aged guys. We also make the topping and just serve it on vanilla ice cream. Some of our family thinks it is more delicious this way with the topping freshly made and served immediately. Great! Thank you.
Combine flour, pecans, sugar, and oats in a large bowl. Add margarine and mix well. Pat this mixture on a large baking sheet with sides. Bake at 400F stirring occasionally for 15 minutes Crumble while warm. Cool.
Press half of crumb mixture into a 9 x 13 pan. Drizzle with half the sauce.
Spread ice cream over crumb mixture and add remaining crumbs and sauce. Cover and freeze. Remove from freezer 10 minutes before serving.
( line pan first with saran, wax paper or parchment paper, so it lifts out of dish easily to a flat surface for slicing)Also, I cut it and wrap in saran individual pieces to take out of freezer when needed. This is an extremely rich dessert so I cannot judge portions. I would not serve more than about a 3" square per person.
To Make Caramel Sauce.
In heavy saucepan, bring sugar, corn syrup, butter and water to a boil over med. heat, stirring constantly. Boil 1 minute Reduce heat and cook for 5 minutes.
Remove from heat and stir in vanilla. Let cool slightly. Stir in cream. Sauce.
will thicken.