Bayhill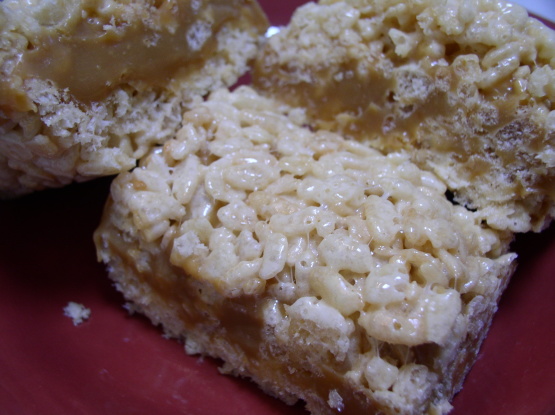 A friend gave me all of her Krispie recipes and I still have them all in my 'try these' pile. She didn't tell me how many servings, so that's a guess from me.
Wow...what a delicious change from the traditional Rice Krispie treat bars. They are very quick, rich, and easy to make with a wonderful combination of flavors. Rice Krispies, marshmallows, and caramel...what's not to love? My family devoured these. Thank you ~Bliss~ for another terrific Fall '06 PAC recipe.
Melt 1/4 cup margarine and 4 cups marshmallows.
Add 4 cups Rice Krispies.
Pat in buttered 9 x 13 inch pan.
Melt caramels, 1/4 cup margarine and sweetened condensed milk together.
Pour over Rice Krispies in pan.
Refrigerate 30-40 minutes.
Prepare another Rice Krispie mixture like the first.
Put on top of caramel layer.
Keep refrigerated.