Prep 25 mins
Cook 1 hr 3 mins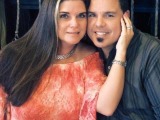 Southern Living, September 2002. Very ripe pears make this cake ultramoist.
Directions
To make cake:.
Toss together pears and 1 tablespoon sugar; let stand 5 minutes.
Beat eggs, 2 cups sugar, and oil at medium speed with an electric mixer until blended.
Combine flour, salt, and baking soda, and add to egg mixture, beating at low speed until blended.
Fold in pears, chopped pecans, and vanilla extract.
Pour batter into a greased and floured 10-inch Bundt pan.
Bake at 350° for 1 hour or until a wooden pick inserted in center of cake comes out clean.
Remove from pan, and drizzle Caramel Glaze over warm cake.
To make the glaze:.
Stir together brown sugar, butter, and evaporated milk in a small saucepan over medium heat; bring to a boil, and cook, stirring constantly, 2 1/2 minutes or until sugar dissolves.
Most Helpful
Simple and good. Thanks for posting.
I received 10 Korean Pears as a gift. They are huge! I love to bake, so I decided to hunt for a pear cake recipe. After looking at several recipes, I chose this one, mainly for the preparation technique. It was very easy to prepare. One of my Korean Pears garnered 3 cups of chopped...they are huge! I did make a little addition to the recipe, I added 1/2 tsp each of ground cloves, ground cinnamon, and ground nutmeg. It was delicious. I tried posting a picture, but so far have not been successful due to technical difficulties. Great cake!

Made this in 2002 when I received Southern Living. for family fall gathering. It's a keeper! Lost the recipe....thanks for putting it in. I agree, use really "ripe" pears, I mashed with pampered chef chopper.