Caramel Filled Chocolate Cookies Drizzled With Chocolate
Rita1652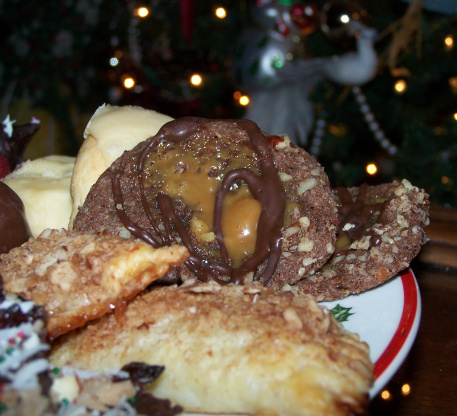 Here you have a rich chocolate cookie rolled in nuts (pecans or walnuts) filled with creamy caramel then drizzled with chocolate.

After the first sheet came out flat and the caramel melted all about the cookies, I decided to chill the next few sheets after I rolled them into balls. Unfortunately, they still fell flat and the caramel melted out. When I make them next, I will be certain to add the caramel post-baking. Other than the mentioned troubles, they were very good.
Mix butter, sugars, egg yolk, creamer or milk.
and vanilla until light and fluffy.
combine flour, cocoa, salt and baking soda gradually add to flour mixture.
Cover and chill, which has to be done or you`ll have flat cookies!
Melt caramels with cream in micro wave of double boiler stirring till melted and creamy.
Remove dough from refrigerator and roll into 24 balls.
Dip into light beaten egg white then roll into nuts.
Place on a parchment-lined cookie sheets.
Make indentations with thumb in center of each cookie.
Pour in melted caramel and bake in a 350° oven for 10-12 minutes.
Melt chips and butter in micro or double boiler.
Drizzle on cooled cookies.
Let firm up and enjoy!