dizzydi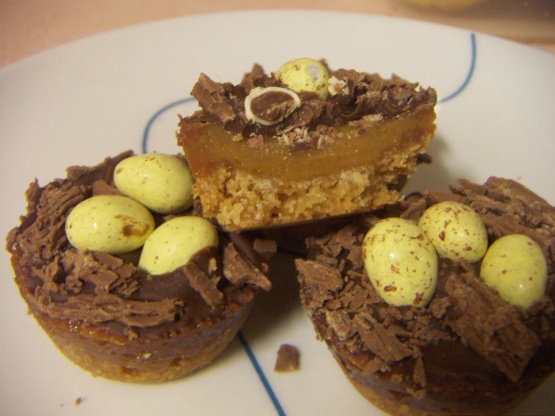 A Delicious little Caramel Cup made in little muffin pans, Basically this is just an adapted Caramel Slice recipe made in muffin pans... Simple but very delicious and they look great on a plate at parties etc.
Make sure you spray muffin pans well with non stick spray!
Base:.
Add melted butter to brown sugar, coconut and S.R. Flour and place a teaspoonfull into mini muffin trays and bake in 170degree oven for around 8 minutes.
Filling:.
Place condensed milk, butter & golden syrup in a saucepan over medium heat and combine till butter is melted and mix begins to bubble, remove from heat and place a dessertspoonful on top of base in muffin pans and return to oven for around 10 minutes or until a nice caramelly brown colour, remove from oven and allow to cool.
Topping:.
Melt chocolate in a bowl and dip cooled Caramel Cup tops into melted chocolate and allow to set.