Caramel Crispix Mix W/ M&m's
hmms1660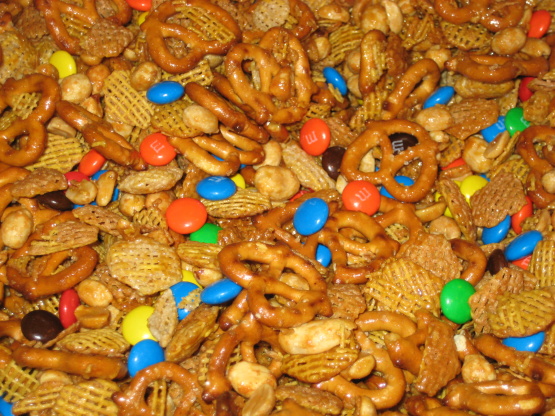 I got this recipe from a coworker, warning: it's highly addictive! It's a perfect combination of salty, sweet, and a little chocolate. I was a little hesitant about microwaving the mixture in a bag, but it turns out well. You could definitely add more M&M's if you'd like. I've made this for holidays and used festive M&M's (red/white/blue for the 4th of July, red/green for Christmas). Total cook time includes cooling.

SO, SO, SO good!! This is a wonderful party snack that everyone loves. The sweet and salty combo is irresistible!
354.88

ml light brown sugar

59.14

ml white syrup

29.58

ml white syrup

2.46

ml salt

7.39

ml vanilla

7.39

ml baking soda

481.94

g Crispix cereal

453.59

g miniature pretzel twists

453.59

g dry roasted peanuts

396.89

g M&M's
IN A MICROWAVE BOWL ADD: 3/4 cup butter, 1 1/2 cups light brown sugar, 1/4 cup + 2 tbsp white syrup, and 1/2 tsp salt.
Microwave for 2 minutes, stir.
Repeat - microwave 2 minutes, stir.
Add 1 1/2 teaspoons baking soda and 1 1/2 teaspoons vanilla. Stir until light caramel look.
IN A PAPER BAG ADD: box of Crispix, jar of peanuts and bag of pretzels (hint: I make this dry mix while I'm microwaving the caramel mix above).
Pour caramel mix over dry mix, shake bag.
Microwave 90 seconds, shake bag.
Repeat - microwave 90 seconds, shake bag.
Spread over wax paper to cool (hint: the more you spread, the less clumps you will have).
When cool, add bag of M&M's.
Store in a tightly covered/sealed container.