Caramel Cream Sandwich Cookies
HisPixie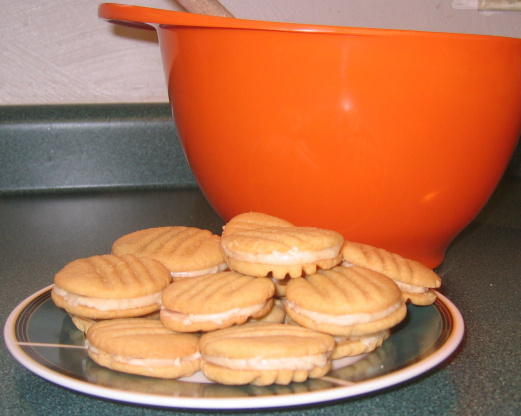 These are SO good:) And rich, as far as cookies go, but I still find it easy to put away more than my fair share of these! I found this in my grandmother's collection, so that tells me that these have been pleasing hungry snackers for some time! My son absolutely LOVES these:)

I got this recipe out of the 1955 Pillsbury Bake-Off cookbook. It was the $2000 Junior Contest winner. The only difference is the actual recipe calls for 2-1/4 cups flour. We really liked them. I accidentally put in 2 TBL of cream in the filling (thankfully I caught myself before adding 4!) and had to add more powdered sugar. The cookies did not brown much at all but they tasted fine. I had no problem with the filling; I could actually mold it with my fingers--but that may have been because of my little goof!
COOKIES: In a large bowl, cream together the butter and brown sugar until fluffy.
Add the egg yolk; blend well.
Add the flour; mix well.
If necessary, cover the bowl with plastic wrap and chill about 15 minutes for easier handling.
Preheat oven to 325°F.
Shape dough into 1" balls; place 2" apart on ungreased or parchment-lined cookie sheets.
With a fork dipped in flour, flatten each cookie in one direction to a 1 1/2" round.
Bake for 10-14 minutes or until light golden brown.
Cool for 1 minute on the sheets; transfer cookies to wire racks and cool completely.
Meanwhile, make the FROSTING: In a medium saucepan, heat the butter over medium heat until light golden brown, stirring constantly.
Remove pan from heat; stir in the remaining frosting ingredients, adding enough milk for desired spreading consistency; blend until smooth.
Spread a scant 1 tsp frosting between 2 cooled cookies, flat sides inward.
Store in the refrigerator.