3 Reviews
I was not quite sure what the consistency of frosting should be and should have been clued in by the ratio of melted butter to powdered sugar. This frosting in my opinion is like a very thick glaze. Next time I make this I'll eliminate the powdered sugar, it's very good at this point. I'll poke holes in the Gingerbread cake and pour the caramel sauce over and allow sauce to soak in the cake. Thank you for sharing!
This is a really nice caramel frosting. I was looking to ice a spice cake and wanted a frosting that was not quite as full of butter and sugar as some of them are. I used skim milk with no problems.

Made this to go with my Gingerbread Cake With Brown Sugar Sauce because I was bringing it to a church potluck and didn't want a messy sauce. I do believe I won't bother with the brown sugar sauce ever again -- this was delicious!!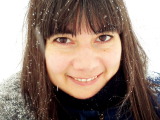 Caramel Cream Frosting