Caramel Cornflake Cookies
Diana 2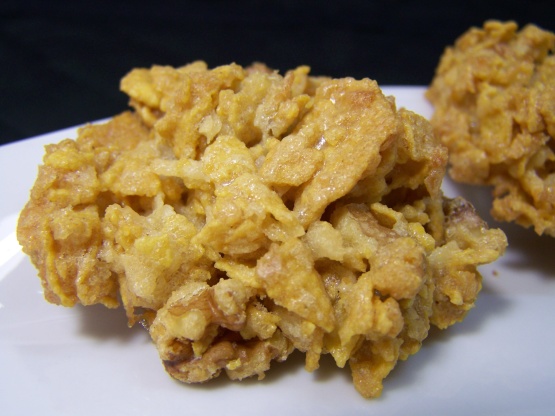 Posted in response to a request in the forums. Recipe found in an old Australian Womens Weekly Cookbook. THis recipe is gluten-free sutiable as it contains no flour...though be sure to purchase gluten-free cornflakes if required for your diet. Cookies keep for a week if stored in an airtight container and are suitable to be frozen

I don't know what went wrong. I greased my cookie sheets well with butter however; the cookies still stuck so badly that it took my daughter and I forever to pry them off the cookie sheet. We were left with broken bits that we put in a container and will use to top ice cream with tomorrow. DH loves them yet the kids and I all felt there were too sweet. I will give the recipe another try...cutting the sugar back as well as the baking time and see what happens. Will give the review stars the next time I make them as I do not want to short change you Jubes. Made and reviewed for OZ/NZ Recipe Swap #52.
125

g butter
1⁄2 cup brown sugar, firmly packed
1⁄2 cup caster sugar
1⁄2 cup desiccated coconut

3

cups corn flakes or 3 cups gluten-free corn flakes, lightly crushed

1

egg, lightly beaten
1⁄2 cup finely chopped mixed nuts
Preheat oven to 180°C or 350°F
Melt the butter in a large pan. Then add sugars and cook, stirring, until combined. Remove from heat
Add all of the remaining ingredients and stir gently until combined
Place level tablespoons pf mixture, about 3cm apart , on lightly greased oven trays
Bake in a moderate oven (180C / 350F) about 15 minutes or until golden brown
Stand for 5 minutes before removing from trays to cool on a wire rack.