Caramel Chocolate Peanut Butter Pretzel Bites (Like Take 5)
Prep 45 mins
Cook 15 mins
These taste a lot like the Take 5 candy bars, which are my hubby's favorite. The dipping chocolate can be a bit messy and time consuming, but it is worth it! Make the bunch and share or freeze to have a constant supply!
6 cups small pretzels
1 (18 ounce) jar peanut butter (creamy)
1 (16 ounce) bag caramels
1 tablespoon butter
24 ounces semisweet baking chocolate (or 15 squares of chocolate almond bark)
Directions
Line two baking sheets with waxed paper.
Arrange pretzels on baking sheets in rows.
Put a teaspoon of peanut butter on each pretzel.
Melt caramels with butter in saucepan over med. heat until melted.
Put 1/2 - 1 tsp of caramel on each pretzel (depending on your tastes).
Put in fridge one hour or until hardened.
Melt chocolate according to package directions.
Dip each pretzel into chocolate and return to waxed sheets.
Refridgerate an additional hour.
Serve.
Most Helpful
These are good candies and would be great for holiday cookie platters. I used about 3 cups of pretzels to start with. To apply the peanut butter, I cut the corner off a freezer bag and loaded a couple of big spoonfuls of PB in it and "piped" a teaspoon or so on each pretzel. I didn't use nearly the entire jar, in fact I had some PB left in the bag and squirted it back into the jar. I found the caramel pretty tricky to work with. I ended up using two baby spoons to drop globs of it on top of the peanut butter. I used a regular bag of semisweet chocolate chips melted with a tablespoon of shortening. Half way through dipping in chocolate, I thought white vanilla almond bark might be good also so I dipped the other half of the pretzels in that. At first I was concerned about the caramel, it had hardened so much that it made the candies almost unedible, but the next day (I just kept these on the counter at room temp) the caramel had somewhat softened a bit and actually have the consistency of the real candy bar. I will make these again for the holidays and try milk chocolate as well. I might make my own caramel from scratch, if time permits. These are somewhat cumbersome to put together but they are really good!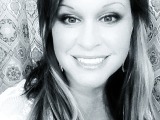 WOW! I had so much fun making these (and eating them!) Though they can be messy putting together, the last step of dipping them in the chocolate makes it all worth while. Definitely easy to make. Only problem I ahd was that I didn't get the caramel "thin" enough to be able to "drizzle" instead of "clump" on each pretzel. Too much caramel makes it tough to eat. My hubby turned his nose up when I told him I was making these - but I just noticed he ate half of the batch I made!! This is a keeper!! Thanks! Made for PAC 2008.