Peter J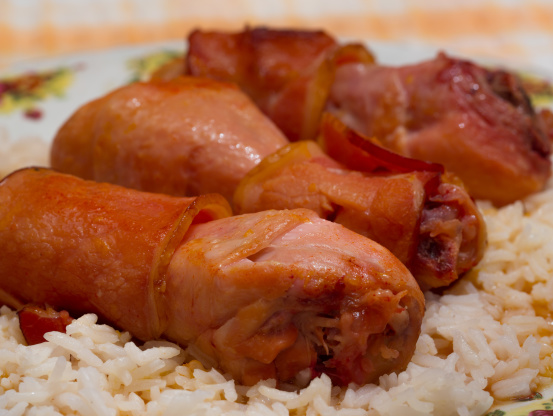 embarassed to say I got this from the back of a soup packet, but it is very good. I usually just make a bacon roll and secure that with a toothpick and fry the rolls in a little olive oil til browned. Then take them out and do the chicken in the oil, remove the toothpick and add to the casserole, looks classy :) have to admit that I am way to lazy to do the orange thing :)

Delicious! This is probably one of those recipes that I'd ignore if I saw on the back of a soup pack but it was great and the sauce went perfectly with rice. I made all as directed using the orange zest / juice other than I browned the chicken in butter rather than margarine.
Secure a piece of bacon around each drumstick with a toothpick, brown in margarine, place in ovenproof dish.
Heat sugar in pan until dissolved, (dont let it burn), add remaining ingredients an bring to boil stirring.
Pour over chicken, cover and bake at 180 for 45-60 minutes.
Serve with rice.
You can also do the whole thing on the stove, but watch it doesn't stick!
You can double the chicken and bacon, and leave the rest the same.