Caramel, Banana, & Date Loaf
Jubes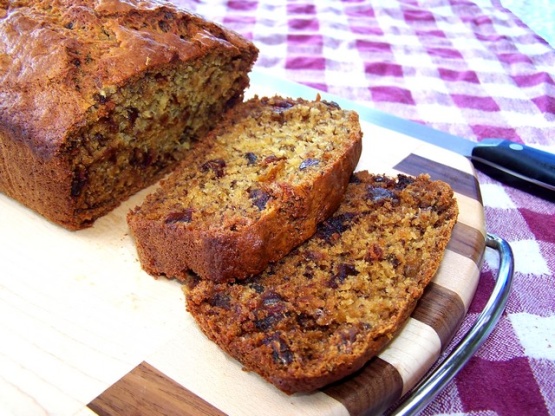 This is a recipe I tore out of a magazine. i made it this week, and it was so delicious! It disappeared very quickly, and I have been asked to make another. My kids loved it and took slices in their lunch boxes. Even my eldest, who is kinda fussy and never eats cake..just LOVED it!

Really great! I'm in the US so the measurements were approximate (60 grams of butter is approximately 1/2 a stick here for example, and 180C is just about 350F). I did not have orange juice, so I soaked the dates in Grand Marnier and used 2/3 cherry cider (it was the only juice I had in my fridge). Also, it makes more than can fit in our loaf pans here, so I had enough batter for a regular loaf pan and also a mini-loaf pan. You only want to fill the pans halfway because when you have self rising flour, it really does rise!! FYI - you can make self raising flour by ading 1 teaspoon of salt and 1 Tablespoon baking powder to 2 cups of regular flour.
Grease a 14cmx21cm loaf pan, line base and long sides.
Combine flour, bicarb, and nutmeg in a large bowl. Stir in dates and brown sugar. Make a well in the centre, add juice, butter, egg, and bananas. Mix with a wooden spoon until smooth. Pour mixture into prepared pan.
Cook at 180C for about 1 hour.
Stand cake in pan for 5 minutes before turning out on a rack.
Serve warm or cold, with a little butter.