Caramel Apple Puff Dumplings
ChefLee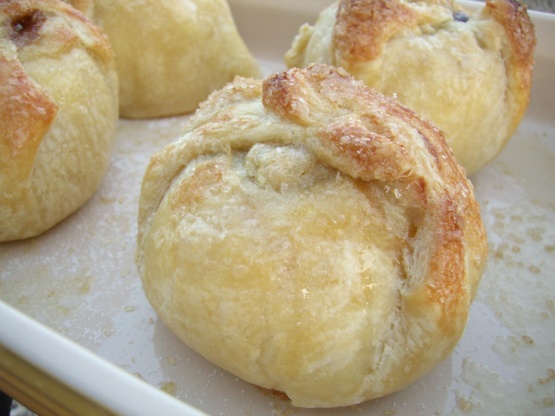 Very nice and yummy dessert. Nice presentation and wonderful too! This is easy to make because am using prepared puff pastry as well as the caramel fudge topping and Cool-Whip.

This is a great dessert. Easy to make with a touch of class when presenting. I initially purchased the wrong frozen pastry. I purchased "shells" so I went back and found the frozen pastry sheets. Rich dessert. I rolled my apples in brown sugar before I wrapped them up with the pastry sheets. The egg/water combo made for a very nice brown glow to the dumplings. Will make again. Thank you for posting!!!!!
Dumplings:.
Preheat oven to 400°F.
Thaw and unfold puff pastry.
On lightly floured surface, roll the pastry into a 16" sqaure.
Cut with a knife into 4 equal pieces.
Peel and core cpples.
Trim the bottoms so the apples sit flat.
Place 1 apple in the center of each square.
Use 1/4 teaspoon of lemon juice if apples start to trun brown.
Mix together the brown sugar or brown-sugar splenda, butter or margarine and cinnamon.
Spoon into apples.
Beat the egg and water together in a small bowl.
Moisten the edge of the pastry with the mixture.
Bring the pastry up around the apple, pleating the pastry as needed to form a seal.
Place the dumplings in an ungreased 9x13 inch baking dish.
Brush them with remaining egg mixture, sprinkle with granulated sugar or splenda.
Bake for 35 minutes until golden brown.
When ready to serve; heat the caramel sauce and the toasted pecans.
Place a warm dumpling on a serving plate and drizzle the sauce over the top.
Garnish with cool-whip or vanilla ice cream, if desired.