gailanng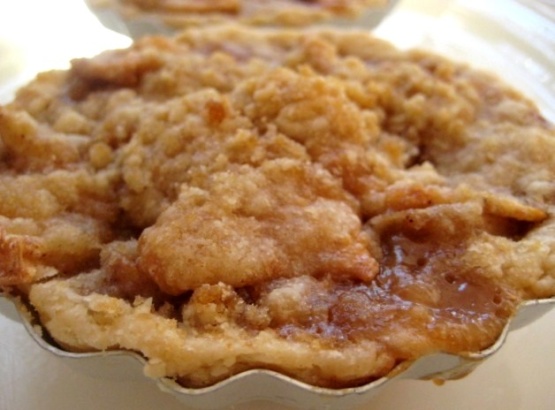 This is another tradition on my Thanksgiving table, which is actually pretty easy to prepare, using caramel-apple dip found in your grocery's produce department!

I'm trying this recipe out tonight! It's in the oven... so easy to make & smells delicious! Had some apples ripe on our tree, jar of caramel & had a major Halloween craving for caramel apples... so, wallah! Will share the results! (Used an easy pie crust recipe from this site).
Preheat oven to 350 degrees.
In a large bowl, combine granulated sugar, 1/4 cup flour, and cinnamon. Add the apples and toss to coat. Transfer to unbaked pie shell.
Combine 2 tablespoons of the caramel-apple dip and the milk; drizzle over the apple filling.
In a mixing bowl, combine 1 cup flour with brown sugar. Cut in butter until mixture resembles coarse crumbs. Sprinkle over filling. Cover edge of pie with foil to prevent overbrowning. Place on a baking sheet.
Bake in oven for 30 minutes. Remove foil. Bake for 25 to 30 minutes more or until golden. Cool 10 minutes. Drizzle remaining caramel dip over top. Cool pie on a wire rack, then serve.