Caramel Apple Oat Squares
Bayhill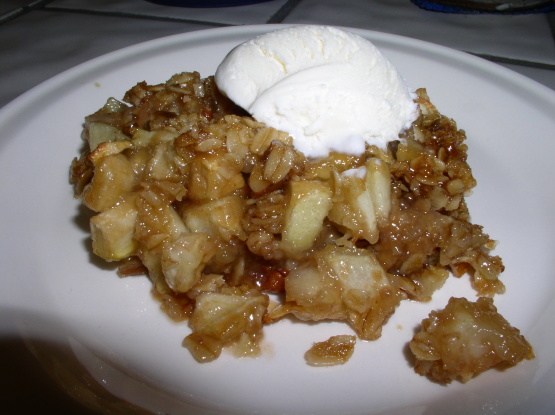 Tastes as good as grandma's.
This dessert was delicious!! It was easy to make and went together quickly. The tartness of the Granny Smith apples was complemented by the rich, sweetness of the topping. My family really enjoyed this and ate it up! The only thing that I did differently was to use old-fashioned oats because that is what I had on hand. Next time, I think I would leave out the salt in the topping. Between the butter and the salt, it was just a tad too salty for our tastes. Thank you for sharing this fantastic recipe...it is definitely a keeper!!
Preheat oven to 375*. Grease a 13x9 inch baking ban.
Combine brown sugar and butter in a medium bowl. Beat with an electric mixer set at high speed until light and fluffy. Add oats, pecans and salt and mix well. Reserve 1 cup of oat mixture.
Press remaining oat mixture over bottom of prepared baking pan.
Combine apples and flour in medium bowl and toss to coat. Spread the apple mixture over the prepared layer.
Drizzle the caramel ice cream topping over the apple mixture. Sprinkle with the reserved oat mixture. Bake for 25 minutes.
Cool in pan on a wire rack. Cut into 12 squares.