Calee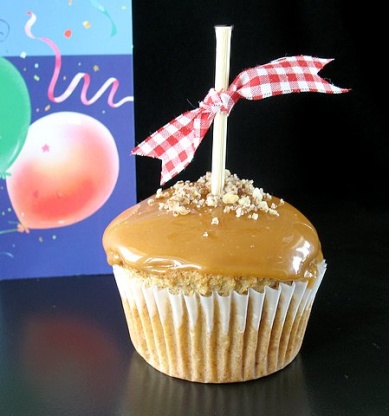 these look like caramel apples..always sell at bake sales...try them they are delicious!

Top Review by Calee
This is a cute idea. I found the cupcakes turned out more like a muffin and lacking a little flavor. It might be missing eggs. This is a recipe Id like to play with because it has a good start some things I would add are eggs and maybe instead of apple sauce use apple butter for more punch. Made for my three chefs.
Preheat oven to 350*.
Combine flour, sugar, spices, soda and salt in bowl.
Stir in applesauce, sour cream, oil, and lemon juice.
Pour into muffin tins fitted with paper liners.
Bake 20 minutes.
let cool completely on rack.
Spread caramel glaze on top of each cupcake and insert sticks.
Garnish each rim with chopped walnuts.
to prepare GLAZE:.
melt caramels with mailk in small pan over low heat.stirring till smooth.
it looks really nice to tie a red gingham bow on each stick.I used 6" lengths.