Caramel Apple Coffee Cake
caraway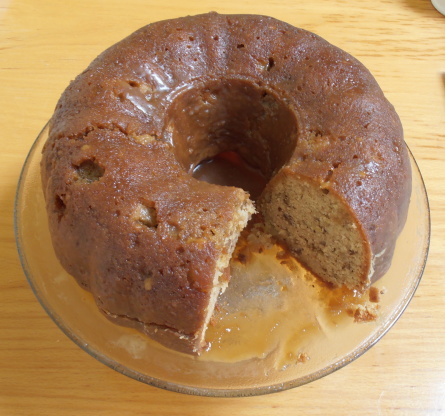 This delicious cake goes great with coffee.

I made this yesterday to take to church while I was working in the office. Everyone loved it even one Pastor who said he really didn't like apple "stuff":. I made a couple of tweaks either out of necssity or personal choice. For instance I used 1cup of reg white sugar, and 1/2 C of brown sugar, instead of all the oil, I used 1 cup of chunky applesauce and 1/2 C Canola oil, it took 2 Granny Smith and 1 med size Gala apple to get 3 cups..I also added a little cinnamon and about 1 tsp of cardomon to the flour mix. I baked it in a 9x13 pan (only took about an hour, cooled it and cut into squares, then put them on a rack and spooned the toppping over each one so they were all covered with a little running down the sides. This is a keepeer in our house, thanks for another winner recipe
In a mixing bowl, beat eggs until foamy; gradually add sugar. Blend in oil and vanilla.
Combine flour, salt and baking soda; add to egg mixture. Stir in apples and pecans.
Pour into a greased 10-in. tube pan; bake at 350° for 1 hour and 15 minutes or until the cake tests done.
Cool in pan on a wire rack for 10 minutes.
Remove cake to a serving platter.
For topping, combine all ingredients in a saucepan; boil 3 minutes, stirring constantly.
Slowly pour over warm cake (some topping will run down onto the serving plate.).