Caramel Apple Cheese Cake
cv2004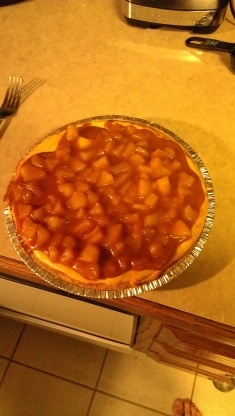 Cheese cake apple pie. The cheese cake part was from Paula Dean but the apple filling was custom.
Combine ingredients from apples through rum in a medium sauce pan.
Simmer until apples are soft with a little crunch in the middle.
Preheat oven to 350.
Whip cream cheese until fluffy.
Add eggs, sugar, and vanilla in a mixing bowl until smooth.
Pour 3/4 of the apple filling into the bottom of the of the pie crust.
Add cream cheese mixture on top of apple filling.
Bake 30-35 min until center is set.
Mix remaining apple filling and caramel sauce in the sauce pan.
Let cool to room temperature.
Spread caramel apple filling on top of pie.