Capt. Phil's Crab-Stuffed Mushrooms
flower7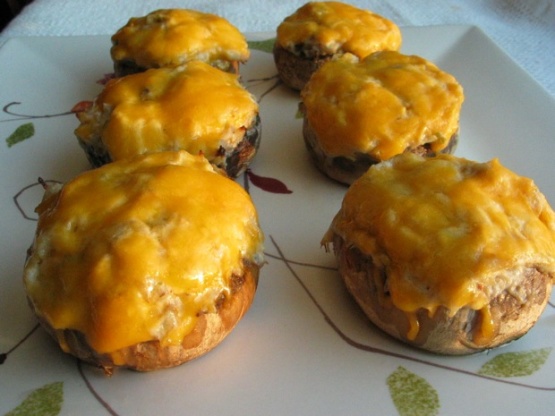 Captain Phil Harris of "Deadliest Catch" made this recipe on the series "After the Catch"; I thought they looked interesting. I would suggest garlic and herb cream cheese, Aloette or Boursin, though you may use what you have handy and suits you. I would think more shredded cheese would be necessary for 40 mushroom caps also. Taken from Discovery.com.

These are very good! I used light chive & onion cream cheese and sharp cheddar on top. I did make a change to the baking method - instead of baking, filling, then broiling, I just filled, topped, and baked for 15 minutes at 350. The filling was piping hot and though the mushrooms still had a little "tooth" to them, I liked them that way. Thanks for sharing this great recipe!
36 -40

medium white mushrooms

8

ounces cream cheese, flavored, softened (or spreadable cheese)

2

cups chopped cooked crabmeat (snow or king crab)
1⁄2 cup grated cheese (can be smoked cheese)
De-stem and scrape out the caps of domestic mushrooms.
Spray with oil.
Bake mushroom caps at 350 degrees for 5-7 minutes to soften.
Prepare the crabmeat stuffing: Break up and coarsely chop the crabmeat. Place in a bowl and blend with cream cheese.
Once thoroughly combined, spoon crab mixture into mushroom caps and sprinkle with shredded cheese.
Broil 6 inches from broiler until melted and lightly browned. *Watch carefully*.