Caprese Tartlets ( Recipe Courtesy Melissa D'arabian)
alligirl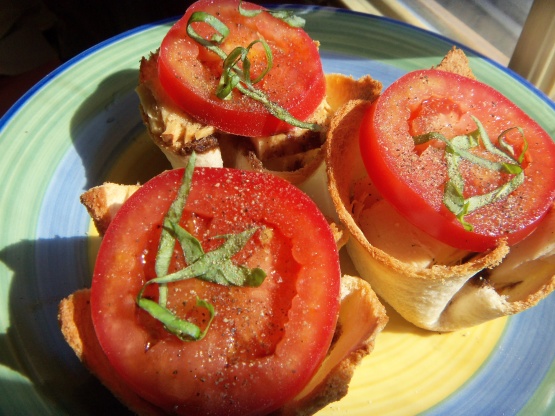 yummy caprese tartlets from melissa D'arabian

I reduced this recipe for a quick lunch...YUM!!! I made it even quicker, using some of the new Philly cooking cream, Italian Cheese and Herb flavor, in place of the cream cheese mixture. I added smoked mozzarella, and used roma tomatoes, which may have been a little too large. I think this would be even more special, when using fresh, garden tomatoes, in season. Perfect for a lovely brunch or lunch with the ladies! Thanks for sharing, ilovecookingsomuch.
Preheat the oven to 375 degrees F.
Remove the crusts from the bread and using a large spoon or rolling pin, gently press the slices of bread down flat until they are thin and almost doughy. Brush both sides of the bread with olive oil. Press the slices in the muffin tin, to form tartlet shells. Set aside.
In a small bowl, using a fork to combine, mix together the cream cheese, garlic powder, dried basil, salt, and pepper until smooth and creamy. Drop about a teaspoon of the cream cheese into the bottom of each muffin tin. Bake the tartlets until golden and crusty, 12 to 13 minutes.
Meanwhile, liberally salt the tomato slices. Once the tartlet shells are golden, remove them from the oven and transfer to a cooling rack. Place a slice of mozzarella on top of the cream cheese, then layer on a tomato slice or two. Season with salt and freshly ground black pepper, to taste and a drizzle of olive oil and balsamic vinegar, if using. Garnish with basil chiffonade.