Caprese Panini (Mozzarella, Tomatoes and Basil)
Bev I Am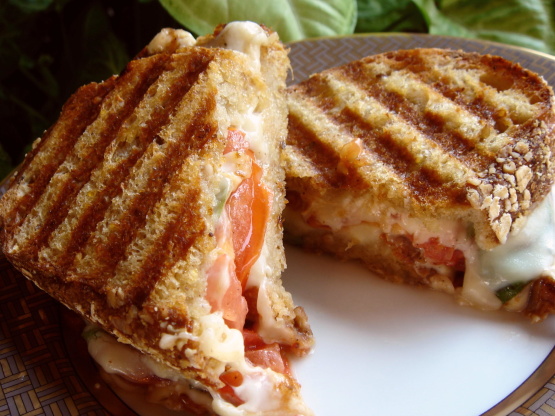 Recipe by Bev
One of my favorites!

Delicious! I left out the mayo and thoroughly enjoyed it. Used ciabatta bread
Preheat an electric panini maker according to the manufacturer's instructions.
Brush one side of each bread slice with olive oil.
Lay the slices, oiled side down, on a clean work surface.
Spread the top of each slice with 1 Tbs mayonnaise.
Place the cheese on one slice and top with the tomato slices.
Drizzle with the vinegar and season with salt and pepper.
Top with the basil, then with the other bread slice, oiled side up.
Place the sandwich on the preheated panini maker and cook according to the manufacturer's instructions until the bread is golden and the cheese is melted, 3 to 5 minutes.
Transfer the sandwich to a cutting board and cut in half.
Serve immediately.
Serves 1.