Cappuccino Muffins With Streusel Topping
Debber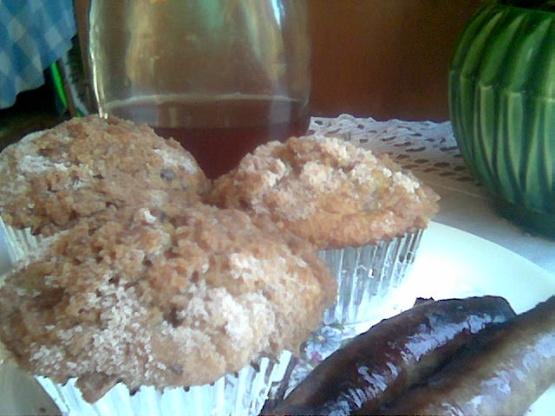 Breakfast will NEVER be the same once you've tried these little gems! Excellent as leftovers the next morning, too, with a dab of butter. The original recipe came from a Reiman publication (Taste of Home?), but I'm never happy leaving a recipe as-is, gotta do my own thing.
Preheat oven to 375. Paper or grease 15 muffin cups.
In a mixing bowl, combine first seven ingredients.
In a smaller bowl, whisk egg, milk, melted butter and vanilla. Stir into dry ingredients in other bowl, just until moistened. Add cup of choc. chips.
Fill muffin cups 3/4's full. Set aside.
TOPPING: combine remaining dry ingredients, cut in butter to resemble coarse crumbs. Sprinkle over batter in cups.
Bake at 375 for 24 minutes, check with a toothpick. Cool for 5 minutes.
LEFTOVERS: Either reheat in the toaster oven or serve at room temperature Split in half and spread with butter & honey, alongside a cup of tea or cappuccino.