Prep 15 mins
Cook 20 mins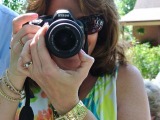 My kids have declared these "phenomenal!" The muffins are good in their own right but the spread gives them an incredible extra dimension. Please note, it is a cream cheese spread and not a sweet icing. The chocolate chips will not change form much. Perfect with a big, cold glass of milk or cup of coffee!
Directions
In a food processor (or using a hand mixer), combine the spread ingredients, cover and process until well blended.
Cover and refrigerate until serving.
For the muffins: In a bowl, combine flour, sugar, baking powder, cinnamon and salt. In another bowl, stir milk and coffee granules until coffee is dissolved.
Add butter, egg and vanilla; mix well.
Stir into dry ingredients just until moistened.
Fold in chocolate chips.
Fill greased or paper-lined muffin cups two-thirds full.
Bake at 375°F for 17-20 minutes or until muffins test done. Cool for 5 minutes before removing from pans to wire racks.
Serve with espresso spread.
Reviews
Most Helpful
The Capppuccino Muffins were served at a recent brunch that I attended and they are absolutely delicious! So different! Suby
I followed the recipe exactly and they turned out great! I did however make 24 mini muffins instead of 14 large ones. I did also iced them myself instead of serving the icing on the side.I served these at a brunch and they were the most popular muffin!(I made three kinds) I really liked the expresso icing and I think that the icing would taste awesome on brownies too! I think I will try the flavoured instant coffee next time. Thanks for posting this unique recipe!

This recipe has so many ratings it doesn't need mine, but I loved these! I mixed the chocolate chips with white chips, and I used 3/4 cup of milk, and 1/4 cup Kahula. Out of this world! I even forgot to put the vanilla in, and they are sooo good! I think I agree with another poster tho, who said they were good without the spread. I did add it, but I do think next time I may leave that off. Gona have one of these with an orange for breakfast. thanks for the recipe.