Prep 15 mins
Cook 25 mins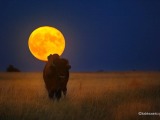 Coffee and vanilla frosting crown cinnamon spiced cappuccino cupcakes. Taken from a magazine, and if you like your coffee in the morning, then give these a try. :)
Directions
Heat oven to 350°F.
Line 12 muffin cups (standard size).
In bowl, mix together flour, baking powder, allspice, cinnamon and salt.
Beat butter and sugar about 2 minutes until light colored and smooth.
Add eggs one at a time, beating well after each egg.
On low speed, add flour mixture, alternating with brewed coffee.
Fill each muffin cup with 1/3 cup each.
Bake at 350°F for 25 minutes, or firm to the touch.
Let cupcakes cool in pan on wire rack for 5 minutes, and then remove from pan and let cool completely.
While cooling cupcakes, in a small bowl combine instant coffee, vanilla and 1 tsp of warm water.
Stir until coffee is dissolved.
Stir in vanilla frosting until blended and no streaks remain.
Frost cupcakes.
Reviews
Most Helpful
These were such delicious cupcakes! I frosted them with the frosting suggested by Jo March, which really goes well with the cake. Thanks for posting this recipe!
My dad, who doesn't even like the SMELL of coffee ate two of these cupcakes right off. I didn't have frosting or instant coffee on hand so I tweaked a simple boiled frosting recipe to suit the cupcake. 5 tbsp flour, 1/2 cup sour cream, 1/2 cup strong brewed coffee. Cook till very thick. Cool completely. Beat together 1 cup butter, 1 cup sugar, and 1/2 tsp. vanilla. Add flour mixture and beat until very flufffy- 5 or more minutes. Frost cupcakes. Best combination you've ever tasted!!
A very nice cupcake with a different twist. Only change was to make my own frosting with butter, conf. sugar and espresso powder. I'm VERY glad they only make 12, cause I'd eat them all.