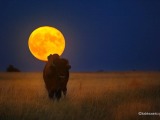 Coffee and vanilla frosting crown cinnamon spiced cappuccino cupcakes. Taken from a magazine, and if you like your coffee in the morning, then give these a try. :)
Directions
Heat oven to 350°F.
Line 12 muffin cups (standard size).
In bowl, mix together flour, baking powder, allspice, cinnamon and salt.
Beat butter and sugar about 2 minutes until light colored and smooth.
Add eggs one at a time, beating well after each egg.
On low speed, add flour mixture, alternating with brewed coffee.
Fill each muffin cup with 1/3 cup each.
Bake at 350°F for 25 minutes, or firm to the touch.
Let cupcakes cool in pan on wire rack for 5 minutes, and then remove from pan and let cool completely.
While cooling cupcakes, in a small bowl combine instant coffee, vanilla and 1 tsp of warm water.
Stir until coffee is dissolved.
Stir in vanilla frosting until blended and no streaks remain.
Frost cupcakes.