Confetti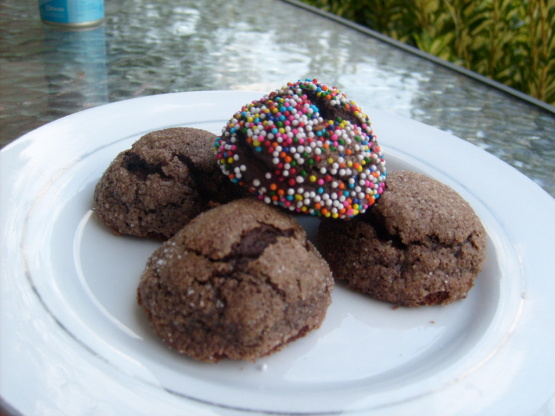 A double rolling in granulated sugar makes these crackled cookies extra sparkly. From BH&G

I expected these cookies to be crunchy, but they turned out soft and cake-y.
Heat oven to 350 degrees F.
Beat butter in a large mixing bowl with an electric mixer on medium to high speed for 30 seconds.
Add the brown sugar, cocoa powder, coffee granules, baking soda, and cinnamon.
Beat until combined, scraping sides of the bowl occasionally.
Beat in egg whites and yogurt until combined.
Beat in as much of the flour as you can with the mixer.
Stir in remaining flour with a wooden spoon.
Place granulated sugar in a small bowl.
Drop dough by heaping teaspoons into sugar and roll into balls.
Roll again in sugar.
Place balls 2 inches apart on an ungreased cookie sheet.
Bake for 8 to 10 minutes or until edges are firm.
Transfer cookies to wire racks and cool.