Caponata With Poblanos and Roasted Garlic
Rita1652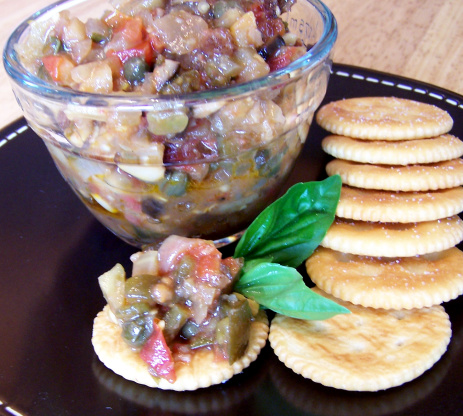 Top Review by noway
Hubby absolutely loved this! I would probably give it a 3-4, but that's because I think it's just not something I care for and is no fault of the recipe. (This was my first time trying caponata, and I've discovered I prefer my veggies warm unless it's a green salad), so I'll base my review on what he said. This was a wonderful complex blending of flavors! I loved the number of different types of veggies and spices involved, it allowed for a really complex flavor and a created a gorgeous multicolor salad! One other note: the total time involved to make this was much longer for me. With the roasting and all of the chopping, it was at least 2 hours, maybe closer to 2.5, so be sure you have enough time set aside to make this. Thanks Rita for posting this unique veggie recipe! I'm glad I tried it, and will keep it in mind as a canning gift for people I know like relishes. Made for Newest Zaar tag.
Place garlic in foil cut side up, drizzle with oil and wrap in foil.
In a very hot oven as hot as it can go place the poblano's and wrapped garlic on a cookie sheet. Let chili`s crisp and brown turning. Remove poblano`s and place in a bowl with a cover. When cool enough to handle remove skin, seeds and stem. Dice.
Turn oven off and leave garlic in oven.
In a large pot place oil to heat add eggplant and brown about 10 minutes, add squash, celery, onions, and tomatoes cook for 5 minutes.
Add remaining ingredients ( garlic if tender to squeeze)bring to a boil then simmer for 15 minutes.
If garlic wasn`t tender add now squeezing it into the mix of veggies.
Stirring occasionally!
Jar or place in a sealed container and refrigerate.