BecR2400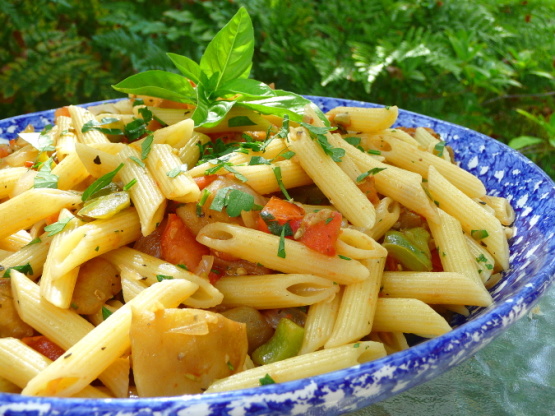 A classic Sicilian-style pasta and veggies dish that's lovely served either warm, or at room temperature. Enjoy with a glass of wine and a good Italian bread for mopping up the delicious juices. Buon appetito! Note: Use good fresh produce and a top quality extra-virgin olive oil in this dish, for best flavor.

I found it a bit oily and will reduce the oil next time. You didnt write what to do with the tomatoe, capers, and olives & Parsley so I just topped the penne with it. It was tasty and I did add salt at the table.I will make again but ajust for my taste buds
Put pasta water on to boil.
In a large saute pan stir-fry eggplant and garlic in 4 tablespoons olive oil, until tender and a little brown.
Put pasta in boiling water.
Remove eggplant mixture from pan and set aside. Saute onion and pepper in remaining oil for 5 minutes. Add eggplant mixture and all other ingredients to onion and pepper, cover and cook over low heat for about 7 minutes.
Toss hot, drained al dente pasta together with eggplant sauce, garnish with a sprig of fresh basil (and the toasted pine nuts, if using), and serve with grated parmesan cheese. Add additional vinegar, if desired. Serve warm or at room temperature.
Serves 4.
*Note: I think I prefer this made with only 8 ounces of pasta.