katew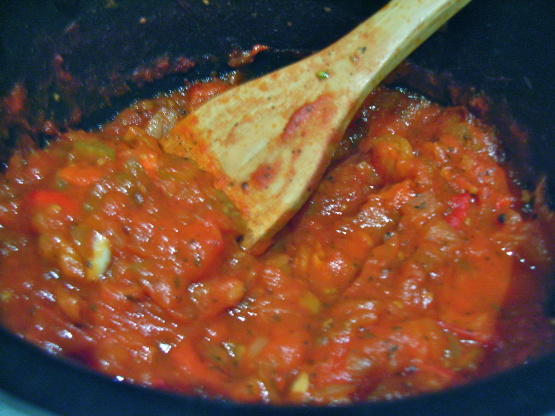 This recipe comes from Simply Classic which is by The Junior League of Seattle. I am posting it in response to a request by Chef #348329. They are many versions of this delicious appetizer with slight variations in each. After reading the recipes, I adjusted the amount of oil. The recipes calls for 1/2 cup; however, if using a well seasoned pan, I believe that you could get away with less. Enjoy!

Top Review by katew
I decided to make this as a pasta sauce so diced everything very finely and used red peppers, not green and halved the amount of eggplant. I served it over ravioli. It is really tasty and versatile, could even go on a pizza base. Regarding the oil, I used very little.
Preheat oven to 350 degrees.
Peel the eggplant and cut into 1-inch cubes.
Heat a large, heavy pan over medium heat and saute the eggplant, tomatoes, onion, green pepper and garlic until eggplant is tender; approximately 20 to 30 minutes.
Add the remaining ingredients, except for the pine nuts and simmer 15 minutes.
Toast pine nuts in oven until golden, about 8 minutes then sprinkle over caponata just before serving.
Serve at room temperature with pita bread triangles or sliced baguette.