Rita1652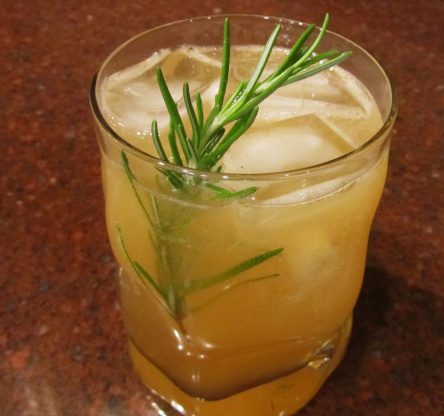 DH and I made this interesting drink tonight. From May 2008 Bon Appetit. We found the Rooibos herbal tea from the "Home Goods" store by our home (also linked to Marshalls Dept store where I am from). I don't usually care for tea, but I liked this drink. Go easy on the rosemary sprigs (maybe use small ones), otherwise they can taste kind of strong in the drink.

You HAVE to like rosemary and Rooibos tea to enjoy this - luckily we do! I have many types of Rooibos tea - this time I used Rooibos loose leaf Redbush tea in this. It's an unusual and yet VERY refreshing beverage and also very thirst quenching - we just LOVED this! I have photos to upload - but I have hundreds to sort through, so will have to post them later! Made for ZWT4 - for a real taste of Africa - loved it! FT:-)
Bring 1 cup water, sugar, and 1 rosemary sprig to boil in medium saucepan, stirring to dissolve sugar. Reduce heat to low and simmer until syrup measures generous 1 cup, about 5 minutes. Add rooibos; let steep one hour. Strain through fine mesh strainer into 1-cup glass measuring cup.
Mix half of rooibus syrup, 1/2 cup gin, and 2 Tb lemon juice into cocktail shaker filled with ice cubes. Shake well, then strain into 2 ice-filled collins glasses. Repeat with remaining syrup, gin, and lemon juice. Garnish drinks with rosemary sprigs and serve.