Capellini With Veal and Tomatoes
Satyne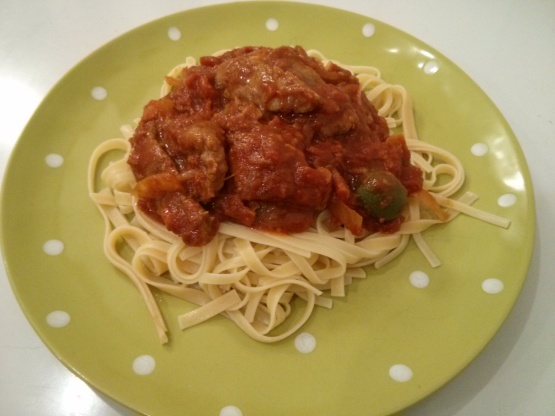 When I was young and in love, my sweetheart and I would frequent an Italian restaurant at least twice a week. It was a family owned place, and the owner often had his mother make special dishes for us. This recipe reminds me of one of those, although credit must go to Carol Monahan, the original poster of this recipe.

Top Review by Satyne
I'm going to start off by saying, I ruined this recipe hahahaha. So no star rating to influence others unfairly. I couldn't find veal cutlets so used scallopeni. (browned for 30 seconds then set aside) Then I thought we had the angel hair pasta, but it turned out that we didn't. So before I even got cooking this recipe was doomed. I valiantly tried to follow the recipe from there, but accidentally evaporated all of my wine sauce (which smelled delicious mind you). At that point in time I was pretty hungry, so just added 2 cans of diced tomatos and went from there. I got the tomatoes heated through then right as the pasta was done, added the veal back into the pan. So ok, I sort of failed this recipe, BUT the results were still really delicious and my partner loved it. I'm sorry this isn't a more accurate rendition of your recipe, but dinner was great!
Cook pasta according to package directions; drain. Set aside and keep warm.
Cook the bacon in a large skillet over medium heat until it is transparent. Add the onion, and cook, stirring constantly, until the bacon is crisp and the onion is tender. Sprinkle the veal with the flour; add the veal to the skillet and cook, stirring constantly, until the veal is lightly browned.
Stir in the wine and the next 5 ingredients. Bring to a boil; cover, reduce heat, and simmer for 10 minutes, or until veal is almost tender.
Add the tomatoes and olives; cover and simmer 5 to 7 minutes or until thoroughly heated. Add the prosciutto; cover and let stand for 2 minutes.
Serve the veal mixture over the reserved pasta; sprinkle with parsley.