Pomtini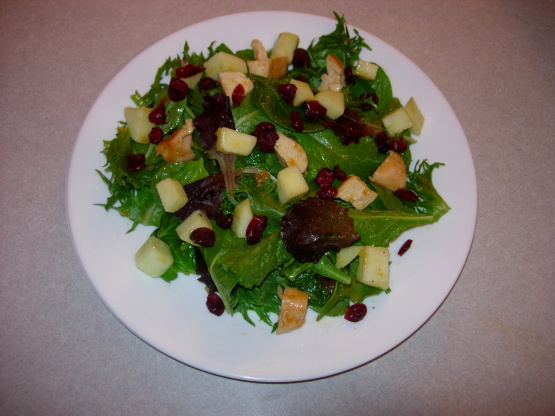 I found this in Cook's Country.

I've been making this salad for a few years now and there are dozens of ways to put it together. I like to sub grilled turkey tenderloins or baked chicken breasts for the deli turkey. I combine 3 TBS of apricot preserves and 1 tsp of dijon and brush it on whatever meat I'm using as you would a bbq sauce. I use 2 bags of prewashed salad and skip the cheese. I also prefer a granny smith apple. DS has a nut allergy so we skip the walnuts but they are delicious in the salad if you don't have a sensitivity. I use far less olive oil when making the dressing, about 3TBS works for us. I also morphed this into a gluten free appetizer for Christmas this year. I prepared everything expcept the lettuce, chopped the chicken into small bites, added small diced granny smith apple and craisins. Make the dressing, reducing the olive oil to 2TBS. Add the dressing to the chicken mixture and toss. Serve it in lettuce cups, I use Boston Bibb lettuce.
Toss apples with 1 tbsp lime juice in small bowl. Whisk remaining 2 tbsp lime juice, chutney (or preserves), and mustard together in a large bowl. Gradually whisk in the oil until incorporated. Season with salt and pepper to taste, and reserve 1/4 cup dressing in measuring cup.
Toss lettuce and watercress with remaining dressing in a large bowl and arrange on a large platter. Arrange apples, turkey, cheddar, walnuts, and cranberries on top of the lettuce. Drizzle salad with remaining dressing.
Serve or refrigerate for up to 1 hour.