Debbwl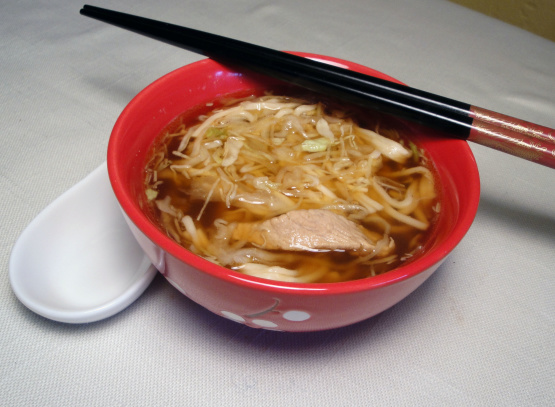 I made this for the two us for dinner tonight. I used all the pork and cabbage and 4 cups of stock. I used fresh chow mein noodles which I heated, then put in the bottom of the bowl. I added in an onion, one clove of garlic and used fresh ginger as I think it works better than powder in asian food. I garnished the finished soup with fresh coriander and served lime wedges on the side. This is a spectacularly yummy soup and while it would be good as written, it was unbelievable with those few additions. Thanks so much for posting.
In large saucepan, lightly brown pork in oil, stirring frequently. Stir in soy sauce, pepper and ginger.
Cook 5 minutes.
Add chicken broth; simmer 15 minutes.
Add cabbage and cook until tender, about 5 minutes.
Garnish each serving with noodles.