Prep 10 mins
Cook 30 mins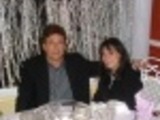 From "Chinese New Year", Good Food Magazine February 1988
2 (779.61 g) can chicken broth
295.73 ml water
78.07 ml chinese rice wine (or sake)
44.37 ml chinese rice wine (or sake)
2 slice fresh ginger (about 1/4 inch each)
2 (963.88 g) can creamed corn
36.97 ml cornstarch
2 large egg whites, beaten
4.92 ml oriental sesame oil
28.34 g cooked ham, minced
Directions
Combine chicken broth, 1 cup water, 1/3 cup rice wine, and the ginger in large saucepan. Heat to boiling. Reduce heat and simmer uncovered 20 minutes.
Remove ginger from broth and stir in remaining 3 T. rice wine, the corn and salt. Heat to boiling, then reduce heat to low.
Dissolve cornstarch in remaining 1/4 cup water and gradually stir into soup. Heat, stirring constantly, until slightly thickened. Remove from heat and pour egg whites in thin stream around edge. Stir once and add sesame oil.
Sprinkle ham over soup in bowls.
Reviews
Most Helpful
wow oh wow this is great. cheap too! i didnt use the ham just a drop of liquid smoke this soup is creamy without adding cream used egg beaters for the eggs. i use crushed jarred ginger so didnt boil the 20 minutes . it was fast coming together great pantry soup

I'd call this an oldie but goodie! I loved the ginger scented broth combined with the smokiness from the sesame oil. I didn't use the rice wine (turns out I had rice wine vinegar, which I don't think is the same) and it was great without it. Super easy to make!