Jubes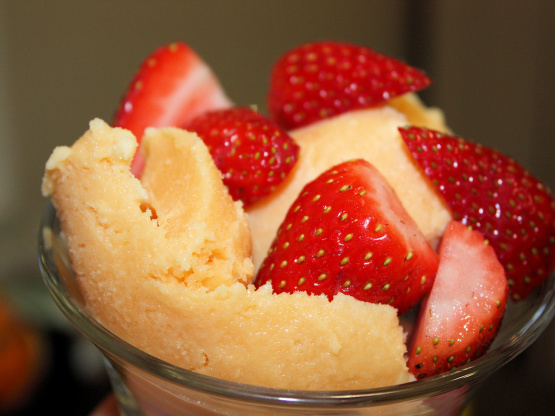 Cool and refreshing summer treat. The recipe calls for freezing in the freezer overnight. I used my ice cream freezer and the results were wonderful. This recipe comes from an advertising insert.

This recipe does NOT have 35 calories per serving! FF Sweet. Cond. Milk only has 10 less calories than the regular. The actual calorie breakdown is: 1 - 14oz can FF Sw.Cond. Milk 1200 1 - medium cantaloupe 188 2T honey 128 For a grand total of 1516 If this is 9 servings then this is 168.44 calories per servings. That is almost 5 times the amount listed! Not a low calorie snack, in fact it is more than some low cal ice cream recipes, but it is a fat free one.
1

medium ripe cantaloupe

1

(14 ounce) can fat-free sweetened condensed milk

2

tablespoons honey
Cut the cantaloupe in half, scoop out and discard seeds.
Peel and slice the melon; cut into large pieces.
Place in a blender container along with milk and honey.
Cover and blend until smooth.
Pour into a freezer-proof container and freeze overnight or until firm.
Or my method, pour into ice-cream freezer and freeze according to manufactuers recommendations.
My ice-cream maker takes about 30 minutes; however the cooking time given reflects freezing overnight.