Kim D.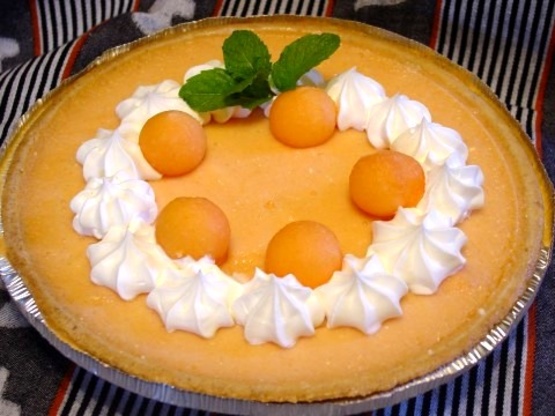 Several years back, I was searching for a Cantaloupe Pie recipe to surprise my grandmother. Her mother made the pie all the time and as a young woman she remembers it being my Uncle Dennis' favorite pie. I requested the recipe in the Taste of Home Magazine and received over 600 responsed by mail! This pie isn't the same as my Grandmother remembered (we did find that one); However, was my favorite! A refreshing pie that's perfect to serve on a hot Texas summer night!

I found this recipe looking for something for a ripe cataloupe.It was great!Just a side note When I went to the pantry to get the clear gelatin i discovered that i didn't have any instead i used strawberry jello, it was not bad at all infact i think i will make it with other flavors .Thanks for the killer recipe again
Peel and seed the melon, cut in chunks and process in a blender or food processor until smooth.
Pour into a large mixing bowl; set aside.
Combine 1/2 melon puree and cream cheese in blender.
Process until smooth.
Add to remaining puree and set aside.
Combine sugar, gelatin and orange juice in a small saucepan.
Cook on low heat, stirring until sugar and gelatin dissolve.
Slowly add to melon mixture, stirring well.
Pour into crust.
Chill until firm.
Garnish pie with Cool Whip and melon balls.