Laura W.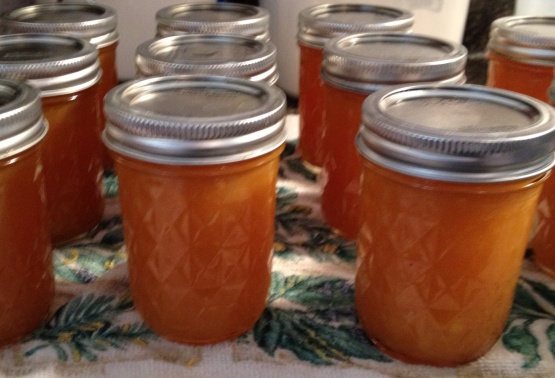 My mom makes this and I love it.

Excellent flavor--very pretty in the jar. I reduced the sugar to 5 cups, cooked 55 minutes, temperature of 230 on jelly thermometer. Set up perfect. Made 7 8 oz. jelly jars
Add the cantaloupe and peaches to a large pot.
Cook over medium heat, stir constantly, for 15 minutes.
Add in sugar and lemon juice, stir to combine.
Bring to a boil, stirring constantly.
Lower the heat and simmer 30 to 45 minutes, or until thickened.
Add in the lemon rind and cook for 3 more minutes, stirring constantly.
Take pot from oven burner; skim off foam.
Pour hot mixture into hot, sterilzed jars, fill to about 1/4-inch from top.
Remove air bubbles and wipe jar rims.
Cover immediately with jar lids and screw on bands.
Process in boiling water bath for 5 minutes.