Thorsten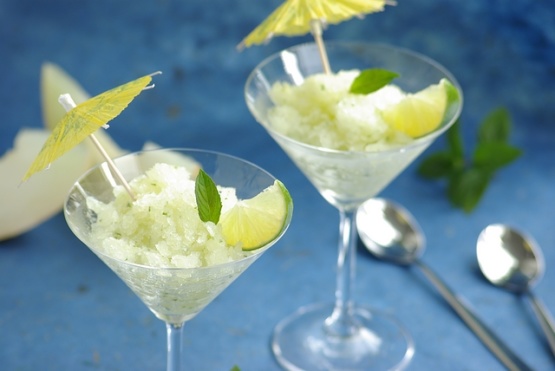 Not overly sweet and lime, mint and white wine (Pino Grigio or a very dry and fruity white wine) give this Granita a summerly freshness. The sweetness of a ripe cantaloupe melon is often enough, so that you don't need to add more sugar. I like the cantaloupe not too ripe with a still lightly green colored flesh. In this stage the cantaloupe has some pear flavors and a sweetness of honey. This goes well together with lime and a dry white wine. The mint or peppermint add just a hint here. I prepare a Granita often one day in advance and mix it with a fork from time to time. Served in chilled glasses or a freezed half melon it is a wonderful dessert on a hot summer day.
Half the melon, remove the seeds with a spoon and spoon out the flesh of the melon halves.
Cut the melon into chunks and put into food processor. Add the remaining ingredients except for the sugar. Don't add sugar at this time.
Mix until smooth.
Pour into a container and freeze.
Get it out after one hour and mix with a fork, so that you don't get too large ice chunks. Add sugar to taste, if it is not sweet enough to your taste.
Put back into freezer for at least one hour. Mix again with a fork to your desired consistency.
Serve in chilled glasses or in the melon halves. Garnish with lime wedge and mint leaves.
NOTE on melon: you need about 1.3 pounds melon flesh. Do not add sugar first, because ripe melons are sweet enough. You can add sugar later to your taste.
NOTE on serving: I serve this granita also in the remaining melon halves. Chill them too. This dessert can be made in advance. You can prepare it the day before serving, but mix it with a fork from time to time.