Cantaloupe and Blueberries With Fresh Strawberry Sauce
diner524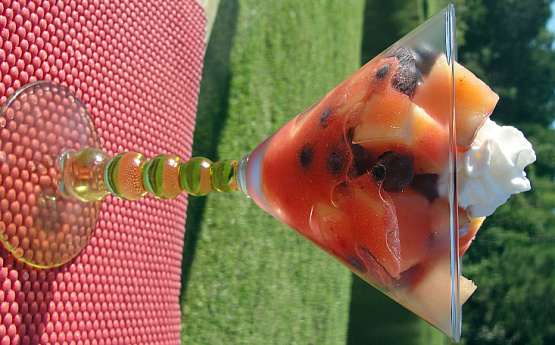 Source: Anne Lindsay's New Light Cooking This dessert is best made when fresh local berries are available. It looks especially pretty if you garnish each serving with a strawberry fan. To make the fans simply slice strawberry from tip almost but not completely through, then fan out slices.
Excellent way to serve this fruit, just loved the strawberry sauce over the melon and blueberries. I bought some pre-sliced cantaloupe and it wasn't very ripe or sweet, so this sauce really saved it. Thanks for sharing the recipe. Made for 123 Tag Game.
Puree strawberries in blender or foodprocessor.
Add sugar, kirshc and lemon juice then process to mix.
Halve cantaloupe, remove seeds and cut flesh into bite sized pieces.
Spoon cantaloupe and blueberries into 4 stemmed glasses.
Drizzle sauce over fruit, garnish with strawberry fans if using and enjoy.