Pamela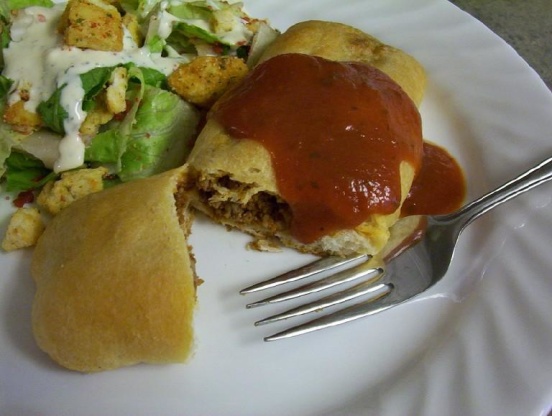 Found in the Pillsbury Classic "Hamburger" cookbook September 2001.

Top Review by Ms B.
This is a really great dish for busy weeknights! We added a bit more garlic, a little salt and some fresh ground black pepper to the meat mixture. We also cut the recipe in half for serving to just hubby and I. So easy and very tasty! I usually have all of these ingredients on hand, too! This will definately make it onto our table again.
In a large skillet, cook ground beef until thoroughly cooked.
Add green peppers, onions, and mushrooms, and cook until tender.
Stir in spices, tomato paste and reduce heat and simmer for 15 minutes.
Separate the dough into 8 rectangles.
firmly press perforations to seal.
Spread 1/3 cup of beef mixture on each rectangle to within 1/4 inch of the edges.
Roll up, starting at the shortest side of the rectangle; pinch edges and sides to seal.
Place seam side down on greased baking sheet.
Repeat with remaining rolls and brush each one with beaten egg.
Bake at 375 for 15 minutes or until golden brown.
Heat pasta sauce.
To serve, place cannelloni on individual serving plates, pour warm sauce over each and sprinkle with parmesan cheese.
Excellent served with a Caeser salad.