Peter J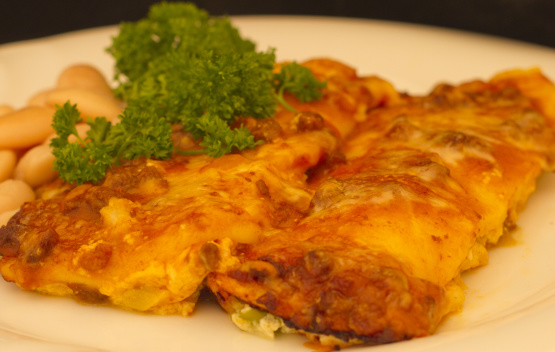 This particular recipe my dear mother-in-law gave to me. This is one that has been in her family for awhile. My husband loves it and my brother-in-law has told me he likes to eat it cold! The great thing with this - you can change the filling to whatever suits your tastes. The one being posted - is the original - our family favorite! Enjoy!

These were fantastic! Because the crepes don't take long at to cook it's really something that tastes amazing yet is fairly fast to put together. The consistency of the crepe mix was perfect so 1/3 cup spread out so close to 5" I didn't have to touch them after pouring into the pan until it was time to flip. We loved this served along with a few beans and a couple of sprigs of parseley to garnish.
Combine all crepe ingredients. Beat together until fluffy. Pour 1/3 cup at a time on low heat griddle (about 250°F).
Spread out into 5-inch circle approximately with spatula. Watch closely. Do not brown.
When edges appear to be dry, flip over for a few seconds.
Place on towel or waxed paper until all crepes are done.
Combine all filling ingredients; beat well.
Fill crepes peanut butter style and roll up.
Place seam side down in 9x13 baking pan. Pour 1 (28 oz) jar spaghetti over crepes. Sprinkle generously with Parmesan cheese.
Bake at 350°F for 30 minutes, uncovered.